Mao Wins Singles Title – Sharygin Takes Doubles
Nathan Mao (Topsham, ME) entered the weekend unseeded but showed he is capable of competing in the 16 and Under division. Mao who spent the winter break competing at the USTA Winter National Championships, won multiple rounds as a 14 and Under player. Mao was ranked top 100 in the nation as a 14 and Under before turning 15 this month.
Mao cruised in his first match against Anish Gangavaram (Mason, OH) winning 6-1; 6-1. Next, he played Xavier Ecarma (Louisville, KY) who beat 7th seeded Nishanth Basavareddy first round. Mao would go on to win 7-6(5); 6-3 to set up a semifinal matchup against Presley Thieneman (Floyds Knobs, IN). Mao needed a second set tiebreak to secure a win 6-3; 7-6(3).
After taking down fourth seeded Thieneman, Mao faced the defending champion and top seeded Daniel Sharygin (Newburgh, IN). Sharygin was ranked top 50 in the nation at the start of the tournament. Mao lost the first set 4-6 only to recover and take the second set 6-0. The third and final set was decided by a match tiebreak which Mao won 10-4.
Despite losing in the finals, Sharygin and his partner, Xavier Ecarma, captured the Doubles Championship. The duo never lost more than 3 games in any of the first three rounds. Sharygin and Ecarma received a walkover in the finals.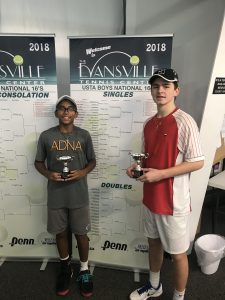 Champion – Nathan Mao
Finalist – Daniel Sharygin
Third Place- Nishesh Basavareddy
Fourth Place – Presley Thieneman
Sportsmanship Award – Frank Thompson
For the completed draw please visit the tournament page.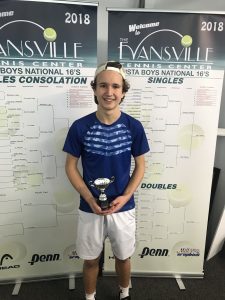 Upcoming National Tournaments:
Girls 12 and Under – March 24-26