Vincents Win Family of the Year Award
Jim, Theresa, Audrey and James Vincent were honored at the annual Central Indiana Tennis Association Annual Meeting this past weekend. Each year the USTA and CITA recognizes a family who best exemplifies the high ideals of the Central Indiana Tennis Association, with each member of the family contributing to the sport of tennis and to the CITA.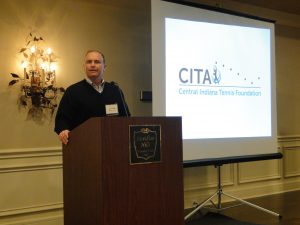 Jim has been a board member for the Evansville Community Tennis Association (ECTA) playing on local USTA league teams and winning a men's CITA district title as Captain. Jim coached middle school tennis and served as assistant coach for boys and girls Memorial high school tennis. He helped in the design, funding and construction of our indoor facility. He continues to play local and regional tournaments.
Theresa has been the chair of the Pro/Am Party for the past 15 years for the pro-circuit tournament, served on fund raising committees and played in many local USTA leagues. She is the one who got the kids and husband to hundred of tennis lessons and tournaments!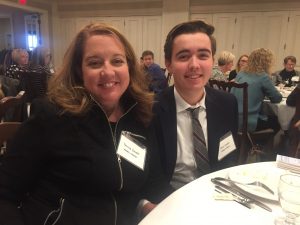 Jim and Theresa have co-chaired the annual ECTA fund raising event. Audrey and James were both CITA ranked juniors as well as in the Midwest and earned All District Tennis. All State Tennis, and Academic All State Honors in High School. Audrey is a Junior at Purdue University studying Computer Science. She played varsity High School tennis for 4 years at Memorial High School winning the 2012 Team State Championship. James is a Senior at Memorial High School and is planning to attend Purdue University. He just finished winning SIAC and advancing to Semi-State. Audrey and James each served 9 years as ball kids for the Pro Circuit Tournament in Evansville and assisted in setting up and tearing down before and after the event. Both helped teach tennis during the summers to low income kids.
We are very proud of the Vincent Family for their efforts and dedication to growing the game of tennis. They have volunteered countless hours over the past several years and we will always be grateful. Audrey and James have always been terrific leaders in the community, and we are confident they always will be!